Ever wondered where the exotic locales are set for huge shows such as Game of Thrones? Well a certain part of it "King's Landing" is actually within the medieval time Walls of Dubrovnik in Croatia.
It does get a little crowded during the summer months as it is the peak season. There are various reasons to choose a beachfront accommodation in Dubrovnik over others such as – Unhindered Adriatic Sea view, contemporary designs, family-friendly, extraordinary spa, etc.
Dubrovnik is a waterfront city in the picturesque country of Croatia in the Mediterranean belt. With the abundance of sunshine and unending coastline, Dubrovnik has a plethora of some gorgeous ocean front/beach front accommodations.
Here is an insider's guide to the 18 gorgeous beachfront accommodations in Dubrovnik.
1. Sheraton Dubrovnik Riviera Hotel
Sheraton as a brand hardly ever goes wrong with their location and even in Dubrovnik they got it spot on. Overlooking the Adriatic Sea and barely a minute to the beach makes it for a perfect getaway place. Big, bright and modern rooms of Sheraton Dubrovnik Riviera are fitted with all the amenities and gadgets. The suites have an un-interrupted sea-view along with balconies. Indoor and outdoor pools, tennis court, playground, fitness centre, yoga service, etc are all available. The sea-view restaurant and poolside bar are particularly popular here along with the full service spa.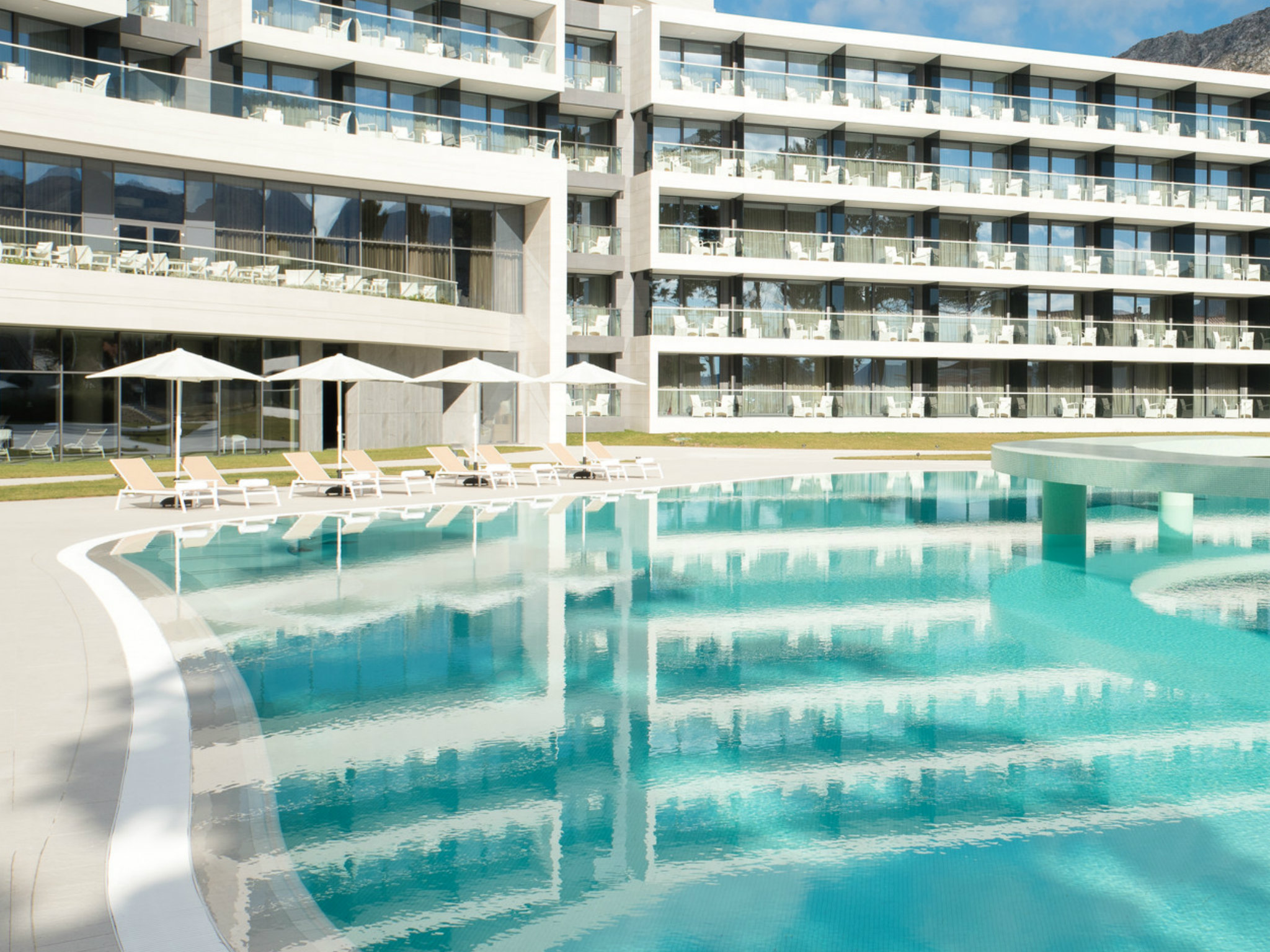 Image – Sheraton Dubrovnik Riviera Hotel
2. Hotel Mlini
Located over-looking a turquoise cove, Hotel Mlini was designed keeping the surrounding in mind and drawing inspiration from the region of Dalmatia. The blues and greens perfectly accentuate the ambiance of the place while giving a fresh and relaxing atmosphere. The abstract paintings and contemporary furniture designed by some of the best local artists give this lace a very upscale feeling all the while making sure that each and every guest is made to feel special.
Click for best deals!
3. Rixos Libertas Dubrovnik
Located 2kms from the famous 14th century Rector's Palace, Rixos Libertas is quintessential an upscale beach front hotel. Ultra modern chic furniture along with wooden floors has a quite nice charm. The hotel has a buffet eatery for the complimentary breakfast as well as an open air sea food restaurant to fulfil all sort of culinary desires. A full-fledged spa offers all kind of massage treatments along with a steam room and sauna.
Click for best deals!
4. Valamar Dubrovnik President Hotel
Seasonal hotels are quite a fad in the Mediterranean region and Valamar Dubrovnik President Hotel is one of them. It is a high end luxury hotel that sits on the shore of the Adriatic Sea and is around 6 kms from the city centre. The rooms here are well kept and give a very nice and posh feel to the place. Flat screens, mini-bars as well as fully furnished balconies is more than one can ask for in a hotel. The suites here have the ever enviable outdoor whirlpool tubs on the balconies. The well ventilated restaurant walks out to the sea view terrace – an ideal place for the complementary breakfast. The piano bar in the property along with the bistro keeps the guests entertained while they are not by the outdoor poolside bar. A private pebble beach, playground and a kid's club keeps the children busy and entertained while the adults can indulge in some treatments at the spa or work out at the gym.
Click for best deals!
5. Hotel Bellevue Dubrovnik
Built on a cliff over-looking the Adriatic Sea, Hotel Bellevue Dubrovnik is barely 4kms from Lokrum Isand and the Medieval Walls. With floor to ceiling glass windows and balconies the view couldn't get better. The upgraded rooms boast of wooden floors, designer furniture and ultra modern amenities. With 24X7 room service; the hotel staffs need a special mention as they take their job very seriously while being friendly to the guests. There's a beach-side restaurant, a sea food restaurant and a fully stocked bar along with indoor pool, steam room and sauna. They also have a private beach which is accessible only to residents and their guests.
Click for best deals!
6. Sun Gardens Dubrovnik
A modern spa resort in every sense of the word, Sun Gardens Dubrovnik sits right on the beach bellowing at the vast Adriatic Sea. Nautical inspired rooms are spacious and give positive vibes due to its colour combinations. The spectacular view is best enjoyed from the sea-view balconies present in almost every room. Club level rooms and suites offer something to be envied; with access to a rooftop lounge and terrace along with additional services. There are a total of whopping 9 restaurants and 5 bars on the property. They also have indoor and outdoor pools, fitness centre, a modern spa with lagoon pool and a juice bar. Guests can indulge in various activities such as beach volleyball, tennis, jet-ski tours, etc.
Click for best deals!
7. The Pucic Palace
A high-end hotel within 10 minutes of Banje Beach provides the ideal location where guests are not too far from the city centre as well as the beach. Built in a 17th century baroque building, Pucic Palace does have an outside facade of being a heritage property. However, the interiors is exactly opposite – chic and trendy. The rooms are fitted with all the modern amenities – satellite TVs, free Wi-Fi, etc. However, wood-beamed ceilings and antique furniture gives that old, rustic feeling as well. Balconies have either the view of old town or the Adriatic Sea. Suites have whirlpool tubs along with a sitting area and a kitchen. Common areas here comprises of a gourmet restaurant with a terrace, a wine bar and an all day bistro.
Click for best deals!
8. Hotel Dubrovnik Palace
Located on the shores of the beautiful Adriatic Sea, Hotel Dubrovnik Palace is a chic and sophisticated property that is around 2 kms from Park suma Velika i Mala Petka. With balconies, the rooms and suites are equipped with free Wi-Fi, flat-screens and mini-bars. Upgraded suites include a whirlpool tub along with a living room. The restaurant offers panoramic sea-view dining, alongside a beachfront eatery, a stylish lounge and a 10th-floor health food joint. Indoor and outdoor pools with a bar, a fitness room, an amazing spa are all available for guests to indulge in. The hotel is family friendly and the staffs especially are very courteous and showers guests with complete attention.
Click for best deals!
9. Royal Princess Hotel
Situated on the shores of the Adriatic Sea, this modern hotel is near to the Walls of Dubrovnik. Neatly done rooms feature floor-to-ceiling windows, balconies and updated furnishings amongst others. Every room in Royal Princess hotel comprises of free Wi-Fi, garden or sea-view, tea coffeemakers and flat-screens. Suites have kitchenettes and separate sitting rooms. Amenities include an upscale restaurant and a sea view terrace bar. The spa has treatment rooms, a hot tub, a sauna and an indoor pool. 
Image- Royal Princess Hotel, Dubrovnik
Click for best deals!
10. Hotel Kompas Dubrovnik
Located around 4kms from the high end area of Stradun Street, the chic little Hotel Kompas Dubrovnik overlooks the Adriatic Sea in all its magnificence. Minimalist, well ventilated and airy rooms feels quite inviting and refreshing. Apart from all the basic amenities such as free Wi-Fi, flat screen TVs and minibars, they are also equipped with personal desks and balconies. With 24X7 room service and the view, one can easily spend time without even stepping out. The poolside bar attracts a lot of in house guests while the sophisticated rooftop lounge and the fine dining restaurant are equally popular. The spa has a Finnish sauna, an indoor pool and a steam room to rejuvenate even the meagre senses.  The outdoor pool, fitness centre, jogging track and private beach comprises of optional activities.
Click for best deals!
11. Hotel Neptun Dubrovnik
Situated next to the Elaphite Islands, this modest hotel is set on an Adriatic Sea beach that is 3 km from Park šuma Velika i Mala Petka. Renovated and modern rooms feature sea-view balconies along with the usual flat-screen TVs, free Wi-Fi, personal desks and minibars. Breakfast is complimentary and is served in one of the 3 restaurants. Hotel Neptune Dubrovnik also has a cocktail bar with casual terrace sitting along with an outdoor pool, a gym, a spa and water sports. They also offer day excursions.
Image – Hotel Neptun Dubrovnik
Click for best deals!
12. Boutique & Beach Hotel Villa Wolff
Built in a stone villa just off the Adriatic Sea, this beautiful hotel is just a minute walk from the public beach and about 5 kms from the Walls of Dubrovnik. Although comparatively small among all the others in this list, Beach Hotel Villa Wolff gets a special mention because it is very highly rated among people who have stayed here. The rooms comprises of free Wi-Fi, satellite TVs and mini-fridges along with separate living areas and balconies in the suites. The property has a Mediterranean restaurant with a waterfront terrace and a bar.
Image – Boutique & Beach Hotel Villa Wolff
Click for best deals!
13. Hilton Imperial Dubrovnik
Situated about 3 minutes from the medieval Franciscan Monastery is the stately and historic Hilton Imperial Dubrovnik Hotel. A grand 1890s building was converted to being a hotel to provide guests with an 18th century charm and ambiance. The rooms are very spacious and give a relaxed feeling the moment one steps inside. Although the rooms are old (although renovated) they are fully equipped in the 21st century with free Wi-Fi, iPod docks, flat screen TVs, etc. Balconies are only available for upper level rooms along with separate sitting areas and access to the executive lounge. The upscale restaurant serves some amazing food while the drinks keep pouring in the lobby bar as well as the terrace bar. The on property spa features a hot tub, a sauna, indoor pool and a steam room alongside a fitness centre. There is also a ballroom for extravagant events.
Click for best deals!
14. Grand Villa Argentina
Seated just off the coast of the Adriatic Sea, Grand Villa Argentina hotel was built in an early 20th-century mansion is about 5 kms from the Walls of Dubrovnik. The rooms are elegantly decorated and feature free Wi-Fi, flat-screen TVs and minibars, as well as sea/garden views. Suites have separate living rooms and stone balconies amongst other amenities. Complimentary breakfast is served everyday in the in-house restaurant while the other restaurant is set right on the private beach. The hotel has 2 bars and 3 meeting rooms along with a functional spa and a fitness centre.
Click for best deals!
15. Hotel Excelsior Dubrovnik
Situated in a former 1900s royal villa, Hotel Excelsior Dubrovnik overlooks the Adriatic Sea which promises the guests with spectacular views of the Mediterranean. The hotel is very chic and upscale in its own rights and is about 12 minutes walk from Stradun Street. The renovated rooms come fitted with free Wi-Fi, minibars, satellite TVs, personal safes and designer amenities. Upgraded rooms have balconies and uninterrupted sea-view. The hotel has an enviable 3 sea-view restaurants including a Thai and piano bar. The private beach is open for all in house guests and so is the indoor pool, fitness centre and the spa.
Click for best deals!
16. Valamar Lacroma Dubrovnik Hotel
With unnerving panoramic sea view all around and a sleek facade, Valamar Lacroma Dubrovnik Hotel is located on the Babin Kuk peninsula. The rooms here are well equipped with flat screens, mini-bars, personal safes, balconies and give a very nice and posh feel to the place. Some of the suites here have an extra floor to add living rooms and is fitted with Maplewood floors. There are a total of 4 bars and 2 restaurants comprising of a live kitchen as well. The property has not 1 but 2 day spas along with indoor and outdoor pools. For activities there's a sports court and a fully equipped gym.
Click for best deals!
17. Villa Orsula Dubrovnik
Situated in a venerable stone villa overlooking the sea, Villa Orsula Dubrovnik is an upscale hotel is about 3 km from Lokrum Island. The modern rooms are fitted with designer toiletries, minibars, free Wi-Fi and satellite TVs along with spectacular views from balconies. Suites also have living rooms along with harbour or city views. Complimentary buffet breakfast is served daily in the open-air fusion restaurant with terrace. The only bar is quite elegant and offers live music and entertainment.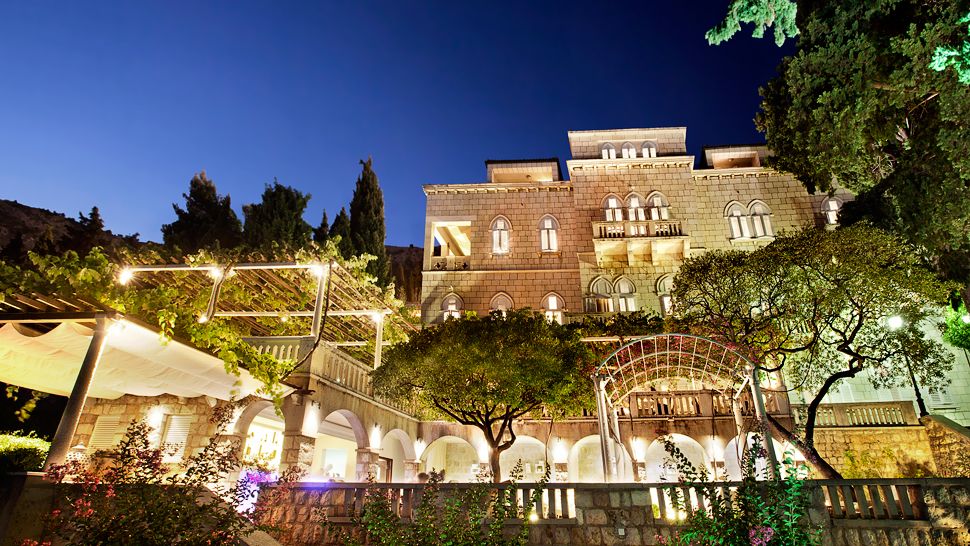 Image – Villa Orsula Dubrovnik
Click for best deals!
18. Lafodia Hotel & Resort
Overlooking the Adriatic Sea, Lafodia Hotel & Resort is a modern, polished resort with beach access is located 1 km from the Sveti Andrija lighthouse. Contemporary and chic rooms feature free Wi-Fi and flat-screen TVs, as well as minibars and personal desks. Some rooms have private balconies whereas suites feature whirlpool tubs and separate living rooms. There's a terrace restaurant that offers lip smacking regional cuisine; and the pizzeria also dishes out some delectable food. A bakery and an indoor/outdoor restaurant with sea views just add to the charm of Lafodia Hotel. Other common areas include 3 bars, an outdoor pool and a full-service spa.
Click for best deals!
Note: This post may contain affiliate links at no extra cost to you.